Association of
Collectors
M. Jancakova
Miscellaneous


Czech bookplates. Ex Libris, Exlibris.
I have never seen,
not even a photograph of her
but according to eyewitnesses,
she was truly beautiful
and not only that but the first collector of bookplates.
Marie Jancakova, maiden name Pribilova
*13th July 1887 + 2nd of April 1959

It was a difficult choice that Josef Vachal had to make, that choice being which of the two sisters he liked the most. He met Klara, the younger of the two sisters around the 4th June 1911, around the time of her graduation. During that year, they spent the Christmas together, and Vachal fell deeply in love with the golden haired Klara, about who he later wrote Medek. In which he described her as a creature so gorgeous. But the relationship did not last and they split up in 1912.
Váchal met Maria, around the same year as he had met Klara, and had probably started a friendship by then. On the 1st November 1911, Maria attended the founding general assembly of SURSUM Art Asociation at the restaurant U Choderu (Ferdinandka) and where on Vachal recommendation, she joined the association as a member.
Before the First World War, she worked as a special teacher at Slovacko, where B. B.Buchlovan and K. J. Obratil (both from Uherske Hradiste) and also graphic artist Josef Hodek firstly introduced her to the art of bookplates.
She returned back to Prague in 1918 and begun to be the founding member of preparatory Committee of Association of collectors and friends of exlibris (SSPE)
She became a member of committee SSPE around 1920, and her first job involved looking after the archives.
She then met PhDr Ladislav Jancak, who was the alumnus of Czech studies at the philosophical faculty, she later got married him in 1922. Vachal created the wedding invitations for their wedding.
Maria's husband then became the landlord of a famous cafeteria, the main centre of Prague a very artistic, avant-garde and later to be a tourist place in the public gardens of Petrin.
Some people commented, that her collection was facilitated a lot. Artist did not have money to often pay for their spending.
For her husband, only one bookplate was made from V. Polivka. So from that point of view, it is clear who clearly had to pay for the expenses.
Without a doubt, she was one of the biggest collector of bookplates. Exlibris being created for her mainly in 1911 - 1958. As far as I know, the number of artists, who created bookplates for her, were imposing 52 authors. Especially with her name, around 200 bookplates, about 190 can be confirmed on my list.
Between the years of 1948-1956, a noted break in the creation of the new exlibris, which was probably due to the political and social changes in the Czech Republic.
The most number of bookplates: 23 created by V.Fleissig for her, and 10 belonged to V. Parizek, V. Polivka, C. Stastny, J. Vodrazka.
In a survey of potential creative artists of exlibris, such as Cinybulk, Florian, Hodek, Kinsky, Kobliha, Konupek, Nemec, Stastny, Votlucka and Vodrazka, not to mention well known other artists whose main interest were not in creating bookplates: V. Fuka, P.Tucny and J.Ulman.
Creator of her first bookplate was Josef Vachal in 1911, who created six bookplates for her and four for her sister Kaára in the same year. Which showed his strong feelings he had for both the sisters.
Friendship with Maria lasted many years and his last exlibris from all the 13; he had made for her in 1937.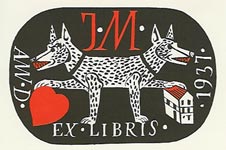 Also due to Marie Jancakova, Frantisek Tichy started to create exlibris with an avid interest.The first one, he made for her before leaving for France in 1928. The next one he created after he came back from Paris in 1936. Tichy, from the final number of 30 bookplates, made around 8 only for her. Professor J.Glivicky, while evaluating work of Tichy commented that exlibris, the Heart Queen with a Clubs jack from 1938 was engraved by Maria Jancakova by herself. That work is kind of debased, it is a shame that the engraving had not been done by a professional engraver. (Tichy in some cases only let the professionals to engrave his designs)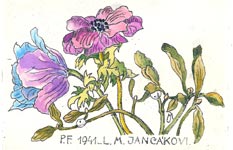 She really liked to watch artists, while they worked, as Vachal mentioned in his memoirs. She made a lot of Exlibris and New Years greetings by herself. Not only for herself but also for others I.E Lina Heinicke. Blossoming branches are typical of her work; she used many other techniques, such as dry needle and linocut.
Unfortunately she never published an article in Magazine Knizna znacka.
From the exchanging lists of years 1940,1943,1946 and 1956, it is obvious that she collected authors named by others and me: i.e. K. Beneš, A. Ladova, R. Gajdos, A. Naumann, W. Helfenbein, V. Maisner. The fact that she did not collect any zinographics is noticeable.
I do not have any information about her close relatives, so as to the whereabouts of her vast collection, I have no clue. Most probably all the pieces were sold.

Summary: If only did not do this noted collector anything, but influenced the work of Vachal and Tichy, it would be enough to do for development of exlibris in Bohemia.

The list of bookplates for M. Jancakova.

Prague, 2003, ing. Ivan Bohac