Association of
Collectors
M. Jancakova
Miscellaneous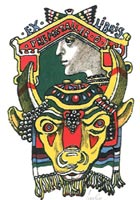 Josef Liesler

born on September 19, 1912 in Vidolice
lives in Prague

He studied the arts at the College of Architecture and Landscape Construction in Prague and - among others - he was a pupil of Cyril Bouda. With his works, he is part of various collections of the Czech National Gallery in Prague, but also in many galleries of cities both in the Czech Republic and abroad.
Liesler not only is member of the two best known artistic associations of the Czech Republic - SVU MANES, the association of fine arts since 1942 and SCUG HOLLAR, the association of the Czech print artists since 1945 -, he also is member of the Royal Belgian Academy and of the Academy of Fine Arts in Florence (Italy).
Right at the beginning, he was influenced by admiring old masters like Duerer, El Greco, Velasquez, Goya or Daumier. He also was inspired by literature, music, history and religion. First, he reached public attention in 1939, when he took part of the first legendary exhibition of the so-called group "Sedm v rink" (The Seven in October). And from this time on, he had his roots among the young generation of Czechoslovak artists from the 40ies. The artists of this generation tried to reflect in their works the depressing atmosphere of the German occupation in the Protectorate "Boehmen und Maehren" and of World War II by their surrealistic style.
He reached masterly skill in nearly all graphic techniques; among others wood cut, lithography, sculpture and graphic illustration. Sovereign lineation, a feeling for dynamic compositions and a masterly use of naive painting made Josef Liesler to a non-interchangeable personality full of expression.
Batz, Gerhard: Lexikon tschechischer und slowakischer Briefmarkenkuenstler, 2002