Association of
Collectors
M. Jancakova
Miscellaneous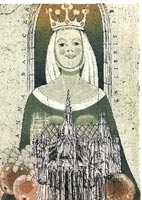 Eva Haskova

born on January 4, 1946
lives in Vsenory

In 1974 Eva Hašková graduated from the Academy of Applied Arts, where she studied under Prof. Z. Sklenář. She then devoted her attention to book illustrations, but later free graphic art began to prevail in her work. In recent years she has occupied herself exclusively within this branch. She uses the intaglio printing technique and colour etching combined with aquatint in various ways. She has held 40 individual exhibitions at home and abroad and takes part in important collective exhibitions in Czechoslovakia and foreign countries. On several occasions she has gained a prize at "The Most Beautiful Book of the Year" competition, including the Arno Sáňka Prize and the prize of the Ministry of Culture of the Czech Republic. At the 9th Biennial in Brno she was awarded the prize of the Vyšehrad publishing house. She also received a Diploma of Honour from the IBA in Leipzig for her free graphic sheets which are based on literary themes.

Eva Hašková new in Internet, ink. Bookplatexlibrislist and Bookplategallery.